A preview of the new feature we are adding to our Ohio aluminum framed boards with no up charge to current pricing. This mockup shows exactly how our new indented frame feature will allow our standard boards to become fully interchangeable with the addition of a printed sheet and our proprietary DaPlus10 film. We have had many customers requesting their boards be changeable and as the premier manufacturer of patient room boards we have come up with the most cost effective and easiest to use system.
We have added a slight indentation under the frame so that our proprietary DaPlus10 chemical resistant film can be inserted into indentation which will both cover and hold a printed insert. This will make our new patient room board quickly interchangeable by just printing an insert and mounting it under a low cost DaPlus10 dry erase sheet which is reusable hundreds of times and will last for many years. This adder will be under $10 in quantity for a 18x24 sized board. Printed sheets and Graphics can be done by us. We can do graphics for a charge and you can have printed locally. Check our package design and print price.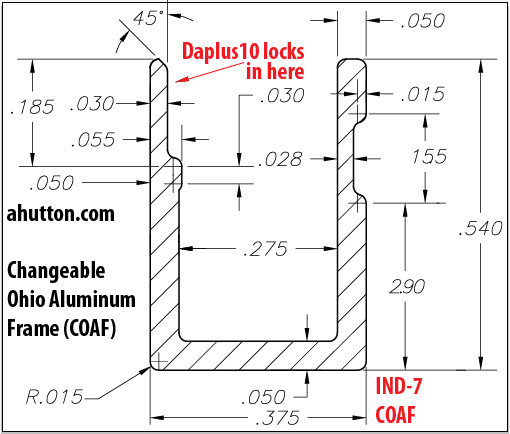 Here is how it works *****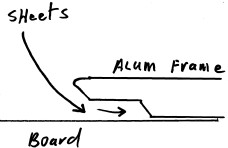 All our Ohio frames are now COAF. Please call me to discuss at 860-632-2026 x111 or visit our web site www.ahutton.com. Again you will be able to buy a fully printed board and at a later date make it changeable instantly with a small purchase of the DaPlus10.
These board still will accept standard magnets with some loss of strength proportional to material thickness over the steel.
Downside of new COAF (Changeable Ohio Aluminum Frame) is that at the very top edge there will be a less than 1/4" gap that will be an non issue.
Trays as of now will not work on these boards.......
How flat is surface - look at video the DaPlus10 at .010" stays flat and clings by static to most printed inserts. If the Daplus10 moves on bigger boards we will supply our Shim to lock it in place.
Can I get the framed board unprinted and save money? Not much right now and why not have a Useable layout to start with.