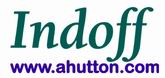 Indoff - nationwide sales
860-632-2026 860-632-2028 Fax

back to Cork
Other Cork Jobs
Below are some pictures of some beautiful gallery quality freestanding display units made with our Colored Cork. The cork was inset into the wood for a classy inlaid look.
Contact us if you are interested in purchasing some units like these or contact the Architect or Project Manager noted below.